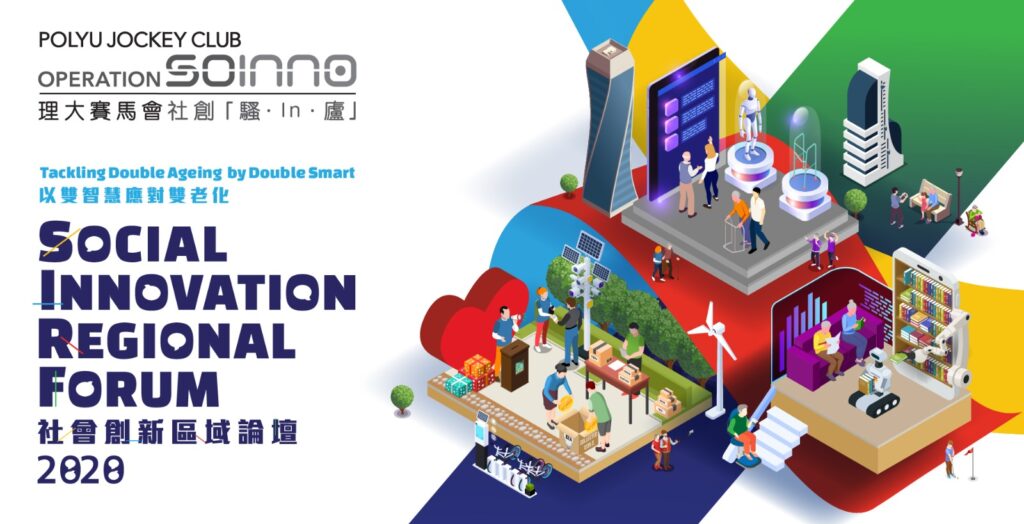 The challenges of population ageing and building stock ageing have received much attention but they are always regarded as two separate issues. Indeed, their combined effects present a much more complex issue where the quality of life of the elderly is compromised as mundane tasks and social participation become increasingly difficult. We must therefore tackle "Double Ageing" with integrated effort from the whole community.
Welcome to Social Innovation Regional Forum (SIRF) 2020, a virtual event comprised of a series of thematic sessions, a forum and an exhibition taking place from October to December. Join academics, industry leaders, and stakeholders from Hong Kong, Asia Pacific and beyond in examining the challenges of double ageing and addressing them by offering proposals and strategies through social innovation.
For more details, please visit

https://sirf2020.polyujcsoinno.hk/sirf2020/web/?lang=en 
Thematic Session 1 Smart Home: Improving quality living of elderly
Date: 9 Oct 2020 | Venue: Online
While we often speak of the comfort of home, many elderly people may find undergoing the routine domestic tasks demanding and inconvenient. With innovations in assistive technologies and home modifications, these frustrations may be alleviated through thoughtful problem solving and design that aim to improve the quality of life of the elderly, while empowering them to live more independently. What are the latest developments in assistive technologies and how well are they being adopted in the home environment?
Thematic Session 2 Smart Building : Achieving sustainable buildings
Date: 23 Oct 2020 | Venue: Online
In tackling the issues of liveability brought about by ageing building stock, building rehabilitation is fast becoming the key strategy for extending building service life and improving the quality of life of its inhabitants. Building rehabilitation provides an opportunity to explore technology and implementations in smart design. With enhancing elderly's accessibility and social connectivity in mind, building rehabilitation is pivotal in enabling a more active lifestyles for the elderly. Join our speakers as they share industry insights and reflections on their efforts in smart building projects.
Thematic Session 3 Smart Neighborhood & Community : Connecting all without boundaries
Date: 06 Nov 2020 | Venue: Online
Venturing away from home and into the public is a challenging and perhaps daunting experience to the elderly. In the revitalization of public space, smart designs consider not just issues of accessibility and safety, but also ways to facilitate social connectivity in order to encourage active interaction in civil society within and beyond local neighbourhoods, ultimately fostering a sense of autonomy and independence for the elderly. Join our speakers as they share about the smart community projects they are involved in, from community kitchens to neighbourhood redevelopments.
Thematic Session 4 Regional Landscape on Social Innovation
Date: 20 Nov 2020 | Venue: Online
Social innovation plays an increasingly important role in tackling issues that have emerged as a result of rapid socio-economic changes, contributing in a manner that values community engagement, collaboration and consensus building. This session explores the regional landscape of social innovation practice and research. Combining their expertise in social innovation efforts in Guangzhou, Shenzhen, and Hong Kong respectively, Dr. Zhou Runan, Mr. Rao JinXing and Dr. Norah Wang will be presenting the findings in their joint comparative study of the social innovation landscape in the above cities, including incubator programs, funding opportunities, and challenges. Dr. Yanto Chandra will also present social innovation research from a global perspective.